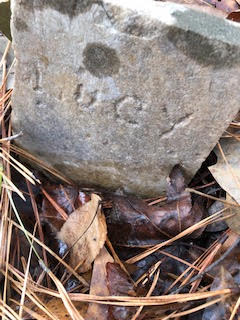 I SEE YOU LUCY… a grey weathered stone still protruding from damp leaves and pine straw covered grounds still standing in defiance to the elements of time. A parcel of land overgrown, down trees, and cleared of all vestiges of love ones final resting places. A cemetery of enslaved and freeman within a private owners land who's not shown the reverence of dignity for those rested souls. Desecration and destruction is what I was met with as our family arrived to pay honor to our descendants.
My eyes filled with tears, because how can this be a cemetery with depression of land with no markers; a white quartzite stone from a long gone quarry as a marker; an eroded box grave; a slab with a name and a date; a gravestone; and Lucy. Amazingly, I looked north and I see from afar a cemetery with markers, no trees or debris, well maintained…oh…it's the white cemetery well maintained by the church across the street…Pierce Chapel UMC. The truth has again resurfaced that enslaved and freemen even in death are stripped of their dignity and respect from the church that preaches "Know.Love.Serve." None of these have been shown to our ancestors…as the story is told our ancestors were "allowed" to hold their funerals on the church steps and buried across the street. Yes this land was designated by a private enslaver to use the land to bury our ancestors.
Our ancestors were amazing and orderly when it came to resting their souls. Graves are methodical, logical, arranged from east to west in neat rows. I see this as I walk through the woods still a daze and bellowing with emotions of wanting to make this right, and there I found Charlie Watt my great-grandmothers brother with a headstone intact, but the slab/box tomb caved in to a sunken grave. I keep walking to the west…and there he is my great-grandfather Will Willis, one of a few full slabs mostly intact. He is finally found after a long search…my mother, my aunt, and myself shed a tear or two. And there straight ahead is Lucy, not alone, but surrounded by depressed graves and quarry stones of yesteryears.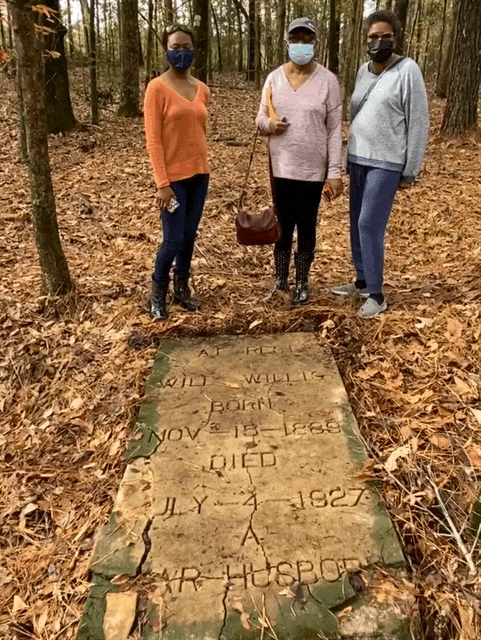 On our way out of the woods, I see it and would have never realize this was also the cemetery, yet a box tomb still rises even after heavy equipment has seen its way to compress the grave and erode it for us to believe it's just a mound of weeds. Yes, I'm all for technology, but desecrating and destroying graves to lay a cable wire is unbelievable and heart wrenching. AGAIN NO RESPECT.
This moment in time for me has created a movement inside my soul. A movement the Hamilton Hood Foundation is taking on to honor ancestors located in the Pierce Chapel African American Cemetery, in Midland, GA. Amazingly, some person has taken upon themselves to name our ancestors cemetery Pierce Chapel A.M.E. Cemetery to distinguish us from them…yes black from white…not surprising.
Where are the records of our ancestors…present them…let them be known and honored, and allow them to rest with a name.
Lucy you are not alone…you are not forgotten…I'm still searching for your story…
Andrea Cox